Scicomm
Science Communication
Science communication at CAPAS aims to create transdisciplinary opportunities for open exchange and mutual learning on a broad range of apocalyptic and post apocalyptic topics in research, society, and politics – building on the areas of expertise of CAPAS' fellows and staff.
In addition to the classic forms of communication via social media, newsletters, press work and public lectures and discussion events, the focus is particularly on creative and participatory forms of science communication in exchange with the arts in order to address target groups that are otherwise often excluded.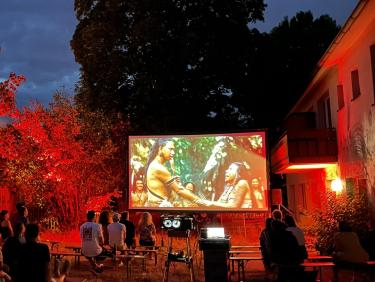 CAPAS offers two mailing lists with current news: the regular Apocalypse Bi-Weekly Newsletter as well as the Magazine Apocalypse Quarterly.
Apocalypse Bi-Weekly Newsletter
The biweekly newsletter contains regular announcements for CAPAS talks, events, publications and calls for participation as well as information on other relevant publications, events and calls from the field. Of course, also the quarterly newsletter will be sent to this list – if you subscribe to the Apocalypse weekly mailing list, you do not need to subscribe to the Apocalypse Quarterly list in parallel.
Magazine Apocalypse Quarterly
The quarterly newsletter will successively introduce CAPAS, the team, and the fellows, inform you about our activities and events and provide insights into different scientific perspectives on apocalypses, publications, and popular culture depictions of apocalypses. In addition to the four newsletter mailings per year, only very few selected major announcements (e.g. for our annual CAPAS conference or our annual Distinguished Lecture) without the weekly updates are sent through this mailing list. You can also choose to read the Apocalypse Quarterly Newsletter online.